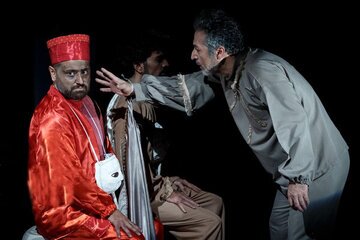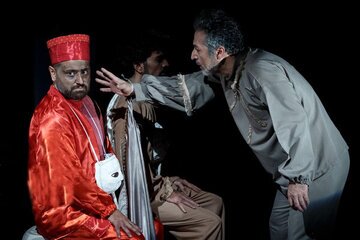 Aftab news:
The show "Majlis Sakana Ler Bashari" written by Hussain Jamali and directed by Malika Al-Razi will be hosted by theater lovers at Tiyatarshahr Complex Workshop.
This play, which was held at the 20th Festival of Ritual and Traditional Performances and received attention, combines the features and techniques of Iranian performances with the classic play "King Lear" by William Shakespeare, creating entertaining situations for the audience.
In a previous conversation with a reporter on the Internet, Malika Razi said about the theme and story of this show: In this black show, the Iranian show enters an unknown place, which is actually Leer Palace. Black discovers that King Lear's jester has been missing for some time and now they want him to fill in for Lear. This story is told to the audience in the style of Brecht's epic, and of course, in order for the audience to have a better relationship with the story, in the way of execution, we went towards a mixture of realism, surrealism, classicism, and Iranian drama styles, which are accompanied by singing and live music, making the audience attracted to the performance.
He explained how "King Lear" was animate: Shakespeare's entire play was animate for performance, but in narrative form, not changing names and places into Iranian ones so that the actors would play similar roles to the roles of the main characters, as was done in Consolation and instead of hearing Shakespeare's dialogues and seeing the events of the story on Theatre, the audience sees her narration in 12 scenes in an interesting way.
The play "Majlis al-Shun Leer Bashari" written by Hossein Jamali and directed by Malika Razi and starring (in the order of arrival) Mohsen Kasri, Peyman Yaqooti, ​​Sufora Kazempur, Hamid Reza Hussain Ali, Sania Aghaei, Yeghanih Attar Alaei, Kimia Jahangiri from May 21st started its performance in the workshop Theater of a month and you will be on stage until July 2nd.


The address has been copied